Friday August 04, 2006 @ 07:00 PM
By: ChartAttack.com Staff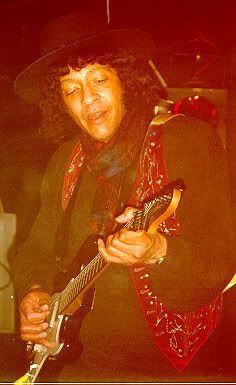 Arthur Lee
Arthur Lee, the frontman for the influential but largely overlooked psychedelic rock band Love, died in a Memphis, Tennessee hospital on Thursday afternoon after succumbing to acute lymphoblastic leukemia. He was 61. Rather than dwell on the passing of this idiosyncratic musical figure, we here at ChartAttack want to celebrate aspects of this man's career. Without further ado, here are 12 reasons why Arthur Lee was cool:
1. Love (then called The Grass Roots) became the first rock band to be signed by Jac Holzman's Elektra Records label in 1966.
2. Lee called himself "the first black hippie" and Love were among the first multi-racial rock bands of the '60s.
3. Love's 1966 cover of Burt Bacharach's "My Little Red Book" showed that the legendary pop songwriter also had some rock 'n' roll inside him.
4. Love's biggest hit, 1967's "7 And 7 Is," is considered by many people to be the first punk song.
5. "Revelation," from Love's 1967 Da Capo album, is credited with being the first rock song to take up an entire side of an LP.
6. Love's "She Comes In Colors" was the inspiration for The Rolling Stones' "She's A Rainbow."
7. Lee convinced Holzman to sign The Doors to Elektra.
8. Lee turned down performing at both the Monterey Pop Festival and Woodstock.
9. Mazzy Star covered Lee's "Five String Serenade" on their hauntingly beautiful 1993 album, So Tonight That I Might See.
10. British members of Parliament voted Love "the world's greatest rock band" and their Forever Changes "the greatest album of all time" in 2002.
11. After three rounds of chemotherapy failed to curtail Lee's leukemia, he became the first adult patient in Tennessee to receive a bone marrow transplant using stem cells from an umbilical cord.
12. Several benefit concerts were staged to raise money to help pay for Lee's medical expenses, including one held at New York City's Beacon Theater in June that featured Robert Plant, Ian Hunter, Ryan Adams, Nils Lofgren, Yo La Tengo, Garland Jeffreys and others.