ARTHUR LEE/LOVE DOC COMING THIS JULY TO DVD
By Liz Lawson on May 20, 2008 1:12 PM
Categories: Film & TV, Music, News
On July 29, much to the relief of Haddaway, we will all finally know for sure what Love is. For the first time, Love Story, the feature length documentary about seminal Arthur Lee-fronted Los Angeles rock band Love, will be released on DVD in the States.
One of the first interracial pop bands in the United States, Love boasted musicians Jim Morrison and Jimi Hendrix as fans, but never found commercial success, due in part to the mentally and physically unstable lead singer Lee. It also likely had something to do with the fact that all of the band's members but Lee were heroin addicts, and that Lee refused to tour and consistently turned down festival appearances. The frontman eventually spent many of the last years of his life in prison for possession of firearms, before passing away in 2006 from acute myeloid leukemia.
Regardless of the bands personal strife, Love made some incredible music, and the band's third album, Forever Changes, stands today as one of the crowning achievements of rock music. (Look forward to a review of the Deluxe Edition in Paste's July issue!)
The documentary features interview time with Lee shortly before his death, as well as the other original members of the band, and footage of Love guitarist Bryan McLean, who died of a heart attack on Christmas day in 1998. Considering the colorful history that the members of the band have, Love Story should be well worth watching.
Love Documentary Coming to DVD, Late LPs Reissued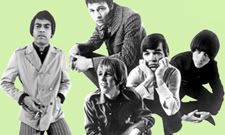 Last year, Pitchfork reported about Love Story, a documentary about the legendary psychedelic folk/pop band Love, as well as reissues of a couple Love albums that came after their 1967 classic Forever Changes. Now, the movie is coming to DVD, and those records are getting a wider reissue on a different label.
Start Productions will release Love Story on DVD July 29. The documentary delves into the legacies of Love and bandleader/frontman Arthur Lee, who died of leukemia in 2006. In addition to interview footage with Lee himself, the movie contains interviews with all of the original band's surviving members, Primal Scream's Bobby Gillespie and Mani, the Doors' John Densmore, Elektra Records' Jac Holzman, and Lord Mayor of London Ken Livingstone, among others.
Love Story also features rare footage of Love and previously unreleased footage of late band member Bryan MacLean. The DVD includes an hour of bonus material, and Bobby Gillespie wrote the package's liner notes.
As for the reissues, they are of 1969 double album Out Here and 1970's False Start, both originally recorded for the Blue Thumb label and reissued last year in a limited edition box set called Love: The Blue Thumb Recordings. These new reissues come out June 10 on Collectors' Choice and give the albums separate, less limited releases.
Out Here and False Start are notable for a more electric sound than Forever Changes, due to the fact that Lee almost entirely reassembled Love's lineup following Forever Changes' release. False Start even kicks off with "The Everlasting First", a song co-written by Lee with Jimi Hendrix and featuring Hendrix on guitar.
Posted by Dave Maher in dvd, reissue on Fri: 05-16-08: 11:30 AM CDT
LOVE STORY 14 -Arthur Lee on Jimi Hendrix
Arthur Lee Revisits The Castle