ARTHUR LEE REMEMBERED16 Aug 2006
Tributes and farewells running the gamut of Mojo's musicianly massive...
Robert Plant, lifelong Love votary who played at Arthur's fund-raising benefit show at NY's Beacon Theatre on June 23.
"Reaching so far back to those remarkable works of dark beauty then witnessing his wild, unsettling presence in the present, I was convinced there could be no end to Arthur. He careened five minutes then five light years away from gathering the shards of creativity to compete with his unassailable past – a tough call; I believed he could do it; I was waiting. Alas, the Vindicator moves on."
Bobby Gillespie faxes from his honeymoon. The Primal Scream frontman has championed Love from the moment his band first commanded airspace.
"Forever Changes was the LP that made us want to start a group and seriously write songs, and I'm sure Arthur Lee's music/words/soul will continue to inspire future generations of psychedelic renegades. I once sat playing guitar at The Chateau Marmont in LA as Arthur sang Signed D.C. to me and Andrew Innes. The three of us spent the rest of the night singing classics from Forever Changes, and other Love songs. I feel blessed to have experienced such glory."
Teenage Fanclub's Norman Blake began his pop life aping the style and attitude of Love's lost leader.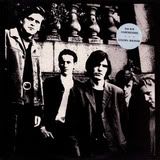 "Before Teenage Fanclub, me and Raymond [McGinley] had a band called the Boy Hairdressers. The [2005 Turner Prize
"Before Teenage Fanclub, me and Raymond [McGinley] had a band called the Boy Hairdressers. The [2005 Turner Prize nominated] artist Jim Lambie was in the band, too, and he was a Love obsessive. We had these photographs taken where we're trying to mimic the back sleeve shot from Forever Changes – Jim holding a broken jug!
"The unique thing about Love was these really unusual chord structures. If you sit down and play them with a guitar – it's like jazz. Then there are those odd lyrics – with Arthur, you could never be sure where the song would go to next. The other thing that appeals about Arthur Lee, when you're a kid starting a band, is that kind of arrogance and aloofness. It really came across that Arthur didn't give a fuck. The way Love stared at you out of the sleeves of the first two albums – that was a real antecedent of punk, I think. Plus the ethnic mix, the Spanish influence, it gives it a different dynamic.
"Later, they became Creation's favourite band, but before that, when Bobby Gillespie had the Splash One club in Glasgow – before the Mary Chain or the Primals – they'd play Love and the 13th Floor Elevators. If you see the images of early Primal Scream, the huge belt buckles and Bobby's bangs – you can see how influenced they were. All the Glasgow bands on Creation were indebted.
"I saw Arthur at King Tut's Wah Wah Hut a few years ago and it was one of the greatest things I've ever seen. A young band and Arthur so charismatic – just the best tambourine playing and an object lesson in garage rock performance. It's a shame he never really came to terms with Forever Changes, but if you speak to a lot of these guys about their legendary work, they have mixed feelings. It's like Alex Chilton; to us the Big Star period means great records, but to him it means no money and no acclaim. Arthur, too, was a troubled man, but I saw him a couple of times recently and he looked like he was having a great time. I really hope that was the case."
Alec Ounsworth from Clap Your Hands Say Yeah represented the new wave of Arthur acolytes at the Doing It For Love benefit in June.
"Arthur was one of the greatest musicians America has produced. To do a benefit show for someone like Arthur Lee was an absolute for me, and the idea of recovery in my mind was optimistically an absolute. However ill I knew he was, I was shocked when he died. He'll always be alive for me. You can feel the strength of personality coming off those albums. I love listening to the outtakes [notably, on Rhino's reissue of Forever Changes], where you can hear Arthur demanding things from his band. Arthur Lee's songs required such precision; he knew what he wanted and demanded so much. Then there's the juxtaposition of that with the gorgeous melodies and songs about the intricacies of life, but always with an undercurrent of wild emotion and absolute sincere emotion. With any of Arthur's records, they're not immediate – he's not gonna pop up on ya like a David Bowie – but keep going with him and you'll be rewarded time and time again."