June 22, 2003
HOME OF THE WEEK
By Ruth Ryon,
Times Staff Writer
Xorin Balbes must love Old Hollywood, judging from his redo of the Cedars, a 1926 Los Feliz villa.
The Cedars had been used for decades as a university professor's private book repository. Occasionally, a room or two would be rented out. The house fell into disuse and decay.
Then came Balbes, an L.A.-based designer and developer. After completing the restoration of Lloyd Wright's 1926 Sowden House in the same neighborhood, Balbes took on the Cedars about a year ago.
Never mind that no one can prove that Norma Talmadge, the silent-screen star, lived there or that the villa was a copy of a duke's in Spain or Italy. Like the legend of Talmadge, the Cedars exudes the glamour of Hollywood's golden age, now that Balbes has put his stamp on it. No more musty smell or dingy rooms; no downstairs ceiling seemingly ready to collapse in a few places.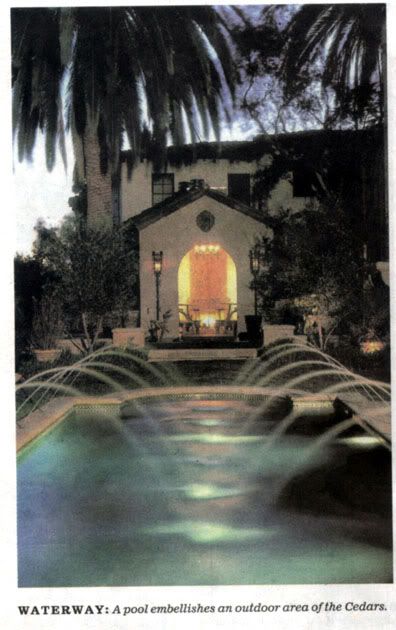 Balbes not only refurbished the house, but he turned it into a showplace worthy of illustrious visitors, some of whom came calling when Balbes recently opened the villa to a fund-raiser for Martin Scorsese's Film Foundation and a pre-Oscar party to raise funds for the United Nations Foundation and Amnesty International.
About this house: Even as it deteriorated, the walled and gated villa was an impressive sight. With its 28-foot-tall foyer, Rococo dome fresco ceiling, gold-leaf-decorated ballroom, adjacent solarium and walk-in fireplaces guarded by statues resembling the MGM lion, the house recalls a former era. Now it's as Old Hollywood might have dreamed of seeing it, with modern conveniences, chandeliers and outside pools and fountains.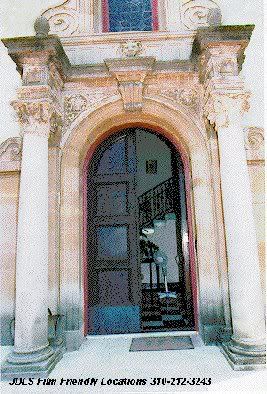 The buyer may apply for a tax deduction by listing the house on the National Register of Historic Places, having the home appraised and donating a conservation/facade easement to a qualifying preservation organization such as the Los Angeles Conservancy.

Asking price: $6,999,000
Size: There are six bedrooms and 6.5 bathrooms in about 10,000 square feet. The house is on a half-acre knoll.
Features: The villa has a detached guesthouse, a wine cellar, sweeping city views, a rooftop terrace designed for entertaining and a motor court behind a wrought-iron gate. There are stained-glass windows, hand-painted ceilings, arched doorways and distressed floors. There are six fireplaces, a media room and a maid's quarters.
Where: Los Feliz
Listing agent: Joseph Babajian, Prudential John Aaroe in Beverly Hills, (310) 248-6400, and Francis R. Gibbons, Prudential John Aaroe in Los Feliz, (323) 671-1202.
"FILM FRIENDLY"
HOMES, MANSIONS,
CASTLE, FRENCH CHATEAU, DESIGNER HOMES
APARTMENTS, ULTRA-MODERNS & MORE
Last Updated March 17, 2000
HOME in Los Angeles Italian Villa - (Built in 1920) 10,000 Sq.Ft.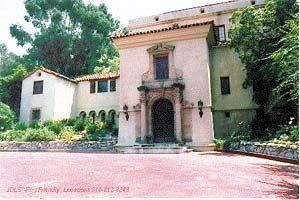 16 Rooms & 6 Baths on 3 Levels - This is a replica of a 17th Century Villa Owned by The Duke of Alba in Florence, Italy. The Former residents are Norma Talmadge, Howard Hughes, Ralph Bellamy, the banker Marco Hellman and others. This is perhaps one of the most unusual and unique homes in Los Angeles with its San Simeon-like appearance. The walls are 2 foot thick concrete with immense rooms and is decorated in a most unusual and historical motif. Sitting on about an acre of land atop a hill in the Los Feliz area. There are private patios around the grounds, a fountain with pond at the front-side and wonderful courtyards around the grounds.
At the door you enter into another time. The entry-foyer is approximately 28 feet high with steps leading up to the multi-level Villa. A Baccara crystal chandelier, rococo dome fresco ceiling, stained glass windows and terrazzo marble floors great you as you come in.
The Living room is approx. 50ft. x 30ft. with a 20-foot ceiling reveling massive decoratively painted wood beams. A walk in Fireplace with 2 large lions resting on the mantel. The floors are solid oak with a herringbone pattern. Off the Living Room is the BallRoom also with stained glass windows, gold leaf columns, gold leaf inlaid ceiling and an outside balcony running the length of the ballroom, library and bedroom.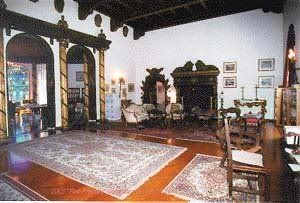 The Library has a large fireplace and a bas-relief inlaid ceiling, as do other rooms of the Villa. There are hand painted Fresco's throughout many rooms and a bathroom with 1-inch square tiles covering the ceiling.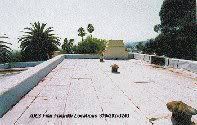 Attention Grips: You'll love this. Easy roof access allows you to do day for night without ladder problems.